About the Artist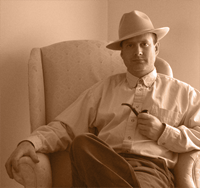 Dana Godfrey has been driven to create from his earliest childhood. For him, creating equals happiness. He is inspired by everyday objects and especially likes to meld organic elements with industrial materials. Dana attended Portland State University and majored in Art. He has also taken many industrial metal working classes and has taught himself the art of enameling. His art studio and shop are located on his small farm in western Washington County, Oregon. Dana and his wife, Marilyn raise their own beef and have an extensive flower and vegetable garden. Marilyn's touch is seen in the beautiful and delicate flower arrangements she makes to showcase Dana's vases. When not working in his studio, Dana can be found at Art and Garden Shows in Oregon and the western United States. He can also frequently be found at the Portland Saturday Market, where he has been a member since 1992.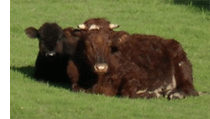 Dana's own artistic style is one of simplicity with a strong emphasis on texture. Metal has always fascinated him. It can look very modern and industrial, or it can take on a very different character as it ages. Dana manipulates metal in many ways, often distressing it to hasten the aging process. The guiding principle behind Dana's work is the concept of WABI SABI.
WABI SABI

This Japanese aesthetic can be described as 'the elegant art of imperfection.' Dana's own interpretation of this principle is to observe objects as they degrade, rust or fall apart to reveal new forms, textures and colors. To achieve a WABI SABI effect, Dana likes to experiment and make mistakes, often purposely pushing a concept to its limits to gain knowledge of the material and the technique. He describes his work as balanced, abstract, organic and industrial.
Jewelry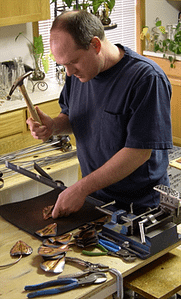 Dana's jewelry is made from solid copper, hand molded on an anvil to subtly suggest organic forms. Some pieces are also enameled, fusing melted glass to the copper. The pieces are either kiln or hand fired, using a torch to melt the glass. The glass is manipulated with the torch to produce various colors and designs. The copper base interacts with certain types of glass causing iridescent colors to occur naturally. While all the pieces compliment each other, they are individually done, creating slight differences in each that adheres to the WABI SABI principles. Dana's jewelry appeals to both men and women and compliments every style. Some of the bracelets are large enough for a man's proportions, and the metal is heavy enough to feel substantial, but light enough for comfort.
Comfort
The earring wires are made of NIOBIUM, a metal that is hypoallergenic and nickel free. They are the most comfortable ear wires you will ever wear. All of the jewelry is made with the comfort and ease of the wearer in mind. All edges are carefully smoothed and rounded and necklace clasps are easy to use and stay perfectly in place.
Home Decor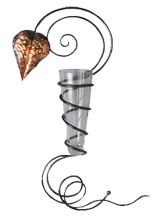 Dana also makes elegant copper and glass vases, root starters and candle holders. His most popular designs are the hanging vases and root starters. The vases can be used to root ivy, coleus, impatiens and many other plants. They are also perfect for arranging a quick and beautiful fresh flower display.